The Eco-Friendly Way to Remove Hardened Concrete
from Nearly Any Surface
The KLEEN KRETE Advantage
KLEEN KRETE is a unique liquid that has the ability to remove dry, hardened concrete from virtually any surface and will not harm most surfaces when used according to directions.* This is a ready-to-use, biodegradable product that eliminated the need for air hammering, sandblasting and scraping of hardened concrete from equipment, forms and other items that may come in contact with concrete. KLEEN KRETE is also an environmentally-friendly way to etch and clean concrete floors in preparation for the application of epoxy or simply to create a non-slip surface.
Contact us for more information online, or give us a call Toll-Free: (800) 801-7832 or Chicago & Suburbs: (847) 639-7272
Removing Hardened Concrete From
* Dilute at 5 parts water to 1 part KLEEN KRETE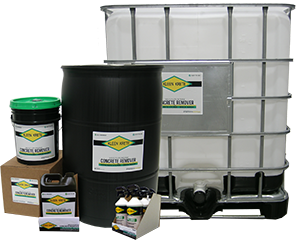 KLEEN KRETE is the eco-friendly alternative to conventional methods of removing hardened concrete.
Safe for Use on Most Surfaces
KLEEN KRETE will not damage aluminum, chrome, electrical systems, glass, paint, rubber and most other surfaces when used according to directions.


KLEEN KRETE is safer for your employees, only needing to be brushed or sprayed on the hardened concrete needing to be removed. It is packaged ready-to-use in 1, 5 or 55-gallon quantities and every 1-gallon bottle includes a 30" trigger sprayer.
Reduces Equipment Damage and Labor Costs
By eliminating the need for air hammering, sandblasting and scraping, KLEEN KRETE reduces associated labor times, damage caused to buildings, equipment and vehicles AND helps extend the life of your equipment by keeping it clean.

These are the primary applications for KLEEN KRETE. For downloadable instructions, visit our Product PDF Library. If you have any questions regarding a particular application, please feel free to contact customer support at: (800) 807-7832 or support@4progressive.com
Kleen Krete – Usage Suggestions

Undiluted
Use KLEEN KRETE to remove hardened cement, concrete or otherwise mortar from a variety of surfaces. Also, it is an environmentally safe, easy-to-use alternative to traditional methods of removing hardened cement.

Concrete Buggies
Concrete Forms
Hand Tools
Precast Equipment
Ready Mix Trucks
Saw Cutting Equipment
Concrete as well as Mortar Mixers
Screeds
Troweling Machines
Vehicles
Undiluted
KLEEN KRETE is used to clean and etch concrete floors prior to application of epoxy floor coatings or sealers.
5 to 1
KLEEN KRETE – Used to clean masonry. MUST use Kleen Krete according to directions.
KLEEN KRETE – PRODUCT PDF LIBRARY
To view the Kleen Krete Product PDF Library documents below, please left click on your choice. You can also download a copy to your computer by right-clicking your mouse on the selection of your choice and choosing "Save As". Get a free copy of Adobe Acrobat Reader to view files.
Kleen Krete Product PDF Library

Does Your Company Have a Success Story?
We'd love to add you to our Kleen Krete Case Studies!
If your company has a success story for Kleen Krete case studies and you would like to share, please email us a brief description with pictures. We will assemble a case study for your approval and share your story. Thank you!
Click Here To Email Us Your Success Story or Conact Us through our online form.