Stop lifting heavy tanks, endless pumping and exposure to spills by dispensing directly from your product container. Built for professionals, the xPRO.20 is a commercial grade power sprayer / fogger designed for fast, safe, efficient application.
Weighing only 8 lbs., the xPRO.20 includes an advanced 12v LiFePO4 battery providing over 8 hours of application time on a single charge. The on-board battery can be recharged in under 40 minutes while the xPRO.20 is in use.
Easily setup the xPRO.20 in under 2 minutes with quick connect spray triggers and hoses.
Treat 3600 sq. feet in 5 minutes with a fine mist that evenly coats all surfaces.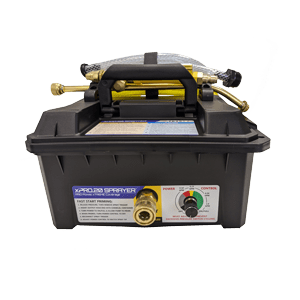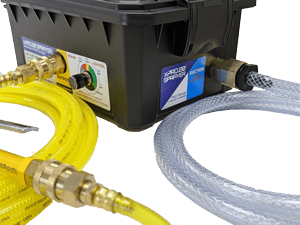 STOP LIFTING, PUMPING, POURING and SPILLING!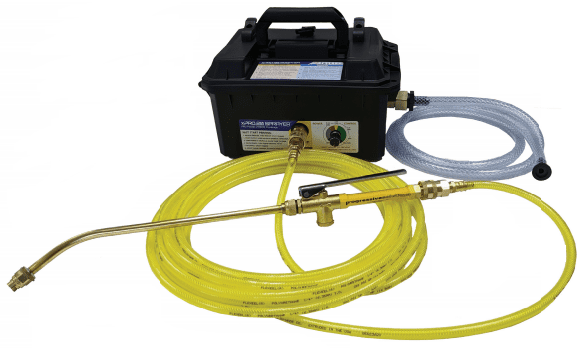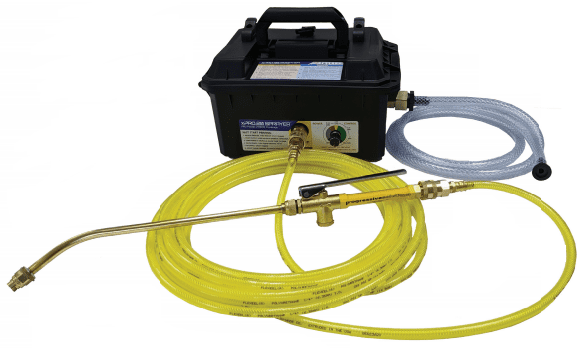 INCLUDES
7Ah 12V LiFePO4 BATTERY
AND FAST CHARGER
SPRAY OR FOG OVER 8 HOURS
ON A SINGLE CHARGE
PORTABILITY
• WEIGHS 8 LBS. FULLY ASSEMBLED
• WAND HOLDER AND HOSE STRAP FOR ACCESSORIES
DURABILITY
• DURABLE ENCLOSURE WITH HANDLE
• CHEMICAL RESISTANT HOSES
• CHEMICAL RESISTANT DIAPHRAGM & SEALS
• FIELD SERVICEABLE
SAFE/EASY TO USE
• STOP LIFTING AND CARRYING HEAVY TANKS
• NO POURING OR SPILLING
• QUICK CONNECTIONS ON ALL HOSES & GUN
• 0.1GPM FAN MIST TIP INCLUDED
• EXTERNAL CHARGING PORT WITH FAST CHARGER
EFFICIENT
• SPRAY 3600 SQ. FT. IN 5 MINUTES
• NO STOPPING TO PUMP OR REFILL TANKS
• SET UP IN UNDER 2 MINUTES
• BATTERY LASTS OVER 8 HOURS & CHARGES IN 40 MINUTES
COST EFFECTIVE
• COVER MORE SURFACE IN LESS TIME
• FINE, EVEN MIST CREATES = LESS CHEMICAL WASTE
• WORKS FOR MIST AND SPRAY APPLICATIONS
ECO-FRIENDLY
• TARGETED MIST COVERS EVENLY, REDUCING OVER SPRAY
• DRAIN EXCESS BACK INTO CONTAINER, CREATING LESS WASTE
• LITHIUM IRON BATTERY IS SAFE AND EARTH-FRIENDLY NOT FOR USE WITH FLAMMABLES!
NOT FOR USE WITH FLAMMABLES!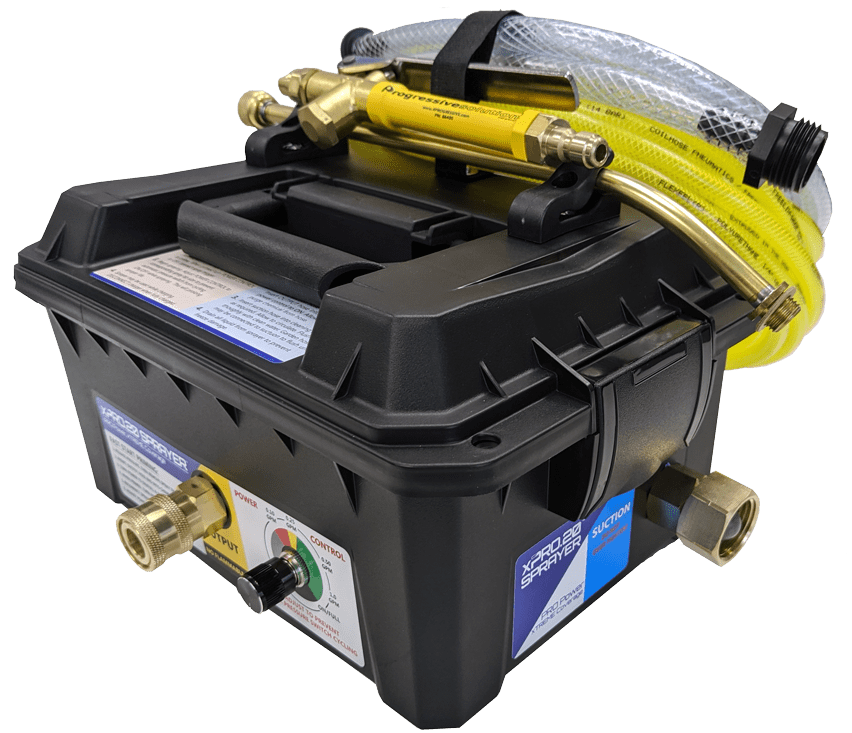 REDUCE EMPLOYEE FATIQUE
ELIMINATE REPETITIVE PUMPING
STOP LIFTING, POURING and SPILLING
PREVENT INJURY CAUSED BY HEAVY BACKPACK SPRAYERS
REDUCE PRODUCT WASTE WITH OUR LINE OF SPRAY / MIST TIP
MORE VERSATILE and COST EFFECTIVE THAN ELECTROSTATIC
WORKS FOR MIST

AND

SPRAY APPLICATIONS
TREAT OVER 31,000 SQ. FT. WITH AVAILABLE 75 FT. HOSE EXTENSION