The KLEEN KRETE Advantage
Cleaning and prepping the holds of your vessel between cargo loads should not be a time consuming or an unnecessarily labor intensive task.  KLEEN KRETE has been specially formulated to be safe for your crew yet extremely effective.  It can be used full strength or diluted to suit your needs.
KLEEN KRETE effectively removes hardened cement powder and soluble salts making preparation for your next cargo or repaint much less time consuming as well as safer for your crew and vessel.
KLEEN KRETE is a specially formulated product that is safe for use on: aluminum, steel, chrome, glass, paint, rubber and most other surfaces when used according to directions. It does not require any special application equipment and will significantly reduce cleanup and preparation times.  As an added benefit KLEEN KRETE will reduce your waste water disposal costs by reducing the amount of water needed for cleanup when used as recommended.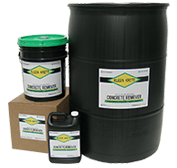 If your vessel looks like this, OR WORSE, after you offload a cement powder cargo, try KLEEN KRETE. A safe and cost effective way to maintain your fleet.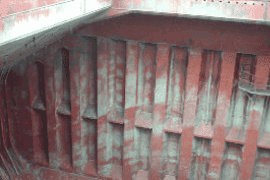 KLEEN KRETE is the most effective and user friendly cement remover currently on the market.
It can also be used for removing soluble salts when preparing surfaces for repainting.
Soluble salts and improper preparation and the leading cause of premature paint failure.

KLEEN KRETE is a biodegradable, eco-friendly concentrate that is safer than conventional methods of removing cement powder, hardened concrete and soluble salts.
Safe for Use on Most Surfaces
KLEEN KRETE will not harm aluminum, chrome, electrical systems, glass, paint, rubber and most surfaces when used according to directions.


KLEEN KRETE is packaged ready-to-use and can be sprayed, brushed or rolled on without the use of special equipment. For added convenience, it is packaged in 1 gallon (3.78 liters), 5 gallon (18.90 liters) and 55 gallon (207.90 liters) quantities and every 1 gallon(3.78 liter) bottle includes a 36″ trigger sprayer.
KLEEN KRETE is safer for your employees and the environmental than conventional acids.


Reduces Equipment Damage and Labor Costs
KLEEN KRETE reduces the amount of labor and water needed to remove cement powder, hardened concrete or soluble salts. Also, it is packaged ready-to-use without the need for special application or cleanup equipment.
Can be diluted in some applications.
KLEEN KRETE – USAGE SUGGESTIONS
These are the primary applications, as well as suggested mix ratios, for KLEEN KRETE. The ratios can be varied up or down according to your results. For Kleen Krete usage suggestions and instructions, please visit our Product PDFs tab to download printable PDFs or Text versions. If you have any questions regarding a particular application or mix ratio, please feel free to contact customer support at 800.801.7832 or support@4progressive.com.

Hardened Cement Powder Remover
Soluble Salt Remover and Surface Preparation
KLEEN KRETE – PRODUCT PDF LIBRARY
To view the Kleen Krete – Product PDF Library Documents below, please left click on your choice. You can also download a copy to your computer by right clicking your mouse on the selection of your choice and choosing "Save As". Get a free copy of Adobe Acrobat Reader to view files.
KLEENE KRETE CASE STUDIES
If your company has a success story for Kleen Krete case studies and you would like to share, please email us a brief description with pictures. We will assemble a case study for your approval and share your story. Thank you.