Extend your Spraying Distance with the Fully Adjustable Lance
Heavy-Duty Accessories to Enhance Your Spraying Systems

Telescoping Spray Lance Advantage
This telescoping, adjustable height spray lance makes extended height and distance applications easy to reach up to 40 feet (12.2 meters) when using the cone nozzle provided. Drastically reducing your application times as well as improving the safety of your employees. At only 8 lbs. (3.5 kgs.) the adjustable lance is lightweight and also easy to maneuver. This application lance has been designed with a coil hose on the outside, making it easier to clean or replace when needed. Using a coil type hose has eliminated the extra hose, normally lying at your feet, that is typically associated with telescoping spray lances.

Tips for Telescoping Spray Lance
Handle & Telescoping Pole

Universal Accessories for the REAL Pump and REAL Pump Express
From wands/tips to hose extensions and recirculators, we offer complete power sprayer kits that are universal to the Real PUMP and Real PUMP EXPRESS. Whether you are looking to give more versatility to your current power sprayer or need to order replacements, all of our complete kits will get you there.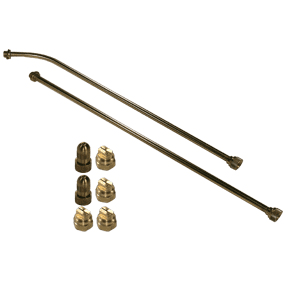 Power Sprayer Extras Product PDF Library
To view the KLEEN KOTE 100 Product PDF Library documents below, please left-click on your choice. You can also download a copy to your computer by right-clicking your mouse on the selection of your choice and choosing "Save As." Also, you can get a free copy of Adobe Acrobat Reader to view files.